Our Physicians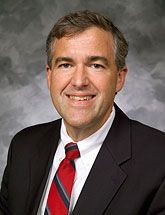 William C. Woodall, III, MD
Birmingham Neurosurgery and Spine Group, P.C.
Homewood Plaza
3125 Independence Drive, Suite 200
Birmingham, Alabama 35209
Phone: (205) 986-5200 or (866) 227-7463
Fax: (205) 986-5250
William C. Woodall, III, MD was born in Birmingham, Alabama. He attended the University of Alabama in Tuscaloosa before receiving his medical training from University of South Alabama, Indiana University Medical School, and University of Tennessee Center for Health Sciences. Today, he continues to practice Neurosurgery in the same clinic started by his father, Carvel Woodall, in 1989. Since he joined the practice in 1991, he has served in various positions at Baptist Montclair Hospital, including Chief of the Division of Neurosurgery, Pharmacy Committee, Cancer Committee, Executive Committee, and the OR Committee. He is board-certified by the American Board of Neurological Surgery, and is a member of many organizations such as the American Association of Neurological Surgeons, the Congress of Neurological Surgeons, the American Medical Association, and the Medical Association of the State of Alabama.