Our Physicians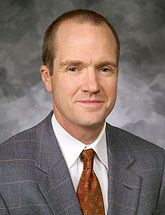 Benjamin Banks Fulmer, MD
Birmingham Neurosurgery and Spine Group, P.C.
Homewood Plaza
3125 Independence Drive, Suite 200
Birmingham, Alabama 35209
Phone: (205) 986-5200 or (866) 227-7463
Fax: (205) 986-5250
Benjamin Banks Fulmer, MD, a native of Mobile, Alabama, attended Duke University before training at UAB Medical School. He has extensive training in Neurosurgery, including complex spinal surgery, stereotactic brain surgery, Gamma Knife, and cerebrovascular surgery. Dr. Fulmer is board-certified by the American Board of Neurological Surgery, and has been an active staff member at Brookwood Medical Center serving on both the Executive Committee and the Credentialing Committee. He is a member of numerous organizations, including the American Association of Neurological Surgeons, the Congress of Neurological Surgeons, the Medical Association of the State of Alabama, and the Birmingham Clinical Club.